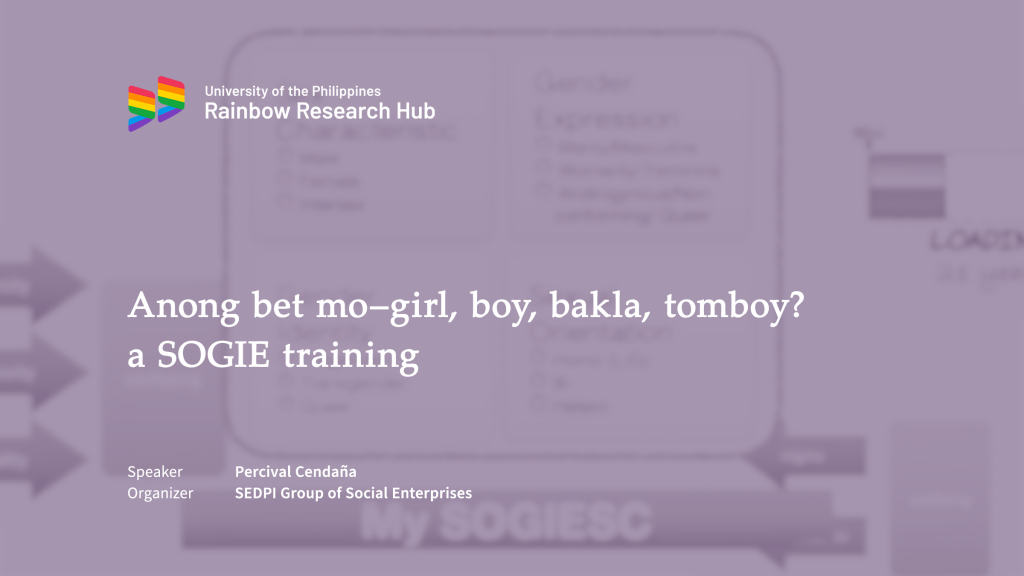 This video features Perci Cendaña facilitating a discussion on sexual orientation, gender identity, gender expression, and sex characteristics. More than a lecture on the concepts of sex and gender, Perci's talk is grounded on well-being, with diversity and inclusion as enablers of well-being and stigma and discrimination as deterrents to well-being.
Speaker: Percival Cendaña
Organization: SEDPI Group of Social Enterprises
Answer the questions posed in the lecture video, or do the "My SOGIESC" activity (18:50):
What is your sex?
What are you?
What do you like to wear?
To whom are you attracted to?
The lecture's core message is that "lahat tayo may SOGIESC (everyone of us has SOGIESC)". How would you explain it to a parent, friend, or someone who does not know what SOGIESC is? How would you explain it to someone who is neutral towards or against LGBTQI people? Feel free to identify other people/qualifiers (for example, a senator who is against the SOGIE Equality Bill) and then try to answer the questions specific to that person.
The lecture already mentions some examples in which Philippine society privileges people who have a specific SOGIESC—that is, those who are cisgender, heterosexual, and endosex (not intersex). One of such examples is birth certificates and government forms only having Female and Male as options under Sex (Assigned at Birth) but not having an Intersex option. Can you think of other examples?
How are LGBTQI people in the Philippines discriminated against at home, school, and work? How might these negative experiences impact their overall wellbeing? You may choose to focus on answer the questions specific to only one context: home, school, or workplace.
How can you increase the enablers of LGBTQI wellbeing (diversity, inclusivity, and equality) in your own immediate environment—that is, at home, school, or work? How can you decrease its deterrents (stigma and discrimination)? [These can be follow-up questions to #3.]
On being intersex: The United Nations Free & Equal (UNFE) Intersex Fact Sheet (English) talks about intersex issues of physical integrity, discrimination, and protection and remedy of. Intersex Asia has also translated the UNFE Intersex Fact Sheet into Filipino and other Asian languages.

On being transgender: The Society of Transsexual Women of the Philippines (STRAP) outlines the state of transgender rights in the Philippines for the UN Human Rights Council in this human rights situationer. It highlights systemic barriers to legal recognition, education, employment, and other aspects of transgender life. The situationer was written in 2012, and unfortunately not much has changed for transgender Filipinos since then.

On diversity, inclusivity, and equality: This mini review on LGBTQ students demonstrates the negative impact of prejudice and discrimination on their wellbeing. It also suggests supportive strategies that schools can implement to become more inclusive of LGBTQ students, such as having protective policies and LGBTQI student organizations.

On SOGIESC definitions: The UP Center for Women's and Gender Studies SOGIESC Primer includes formal definitions of the SOGIESC terms discussed in the lecture.