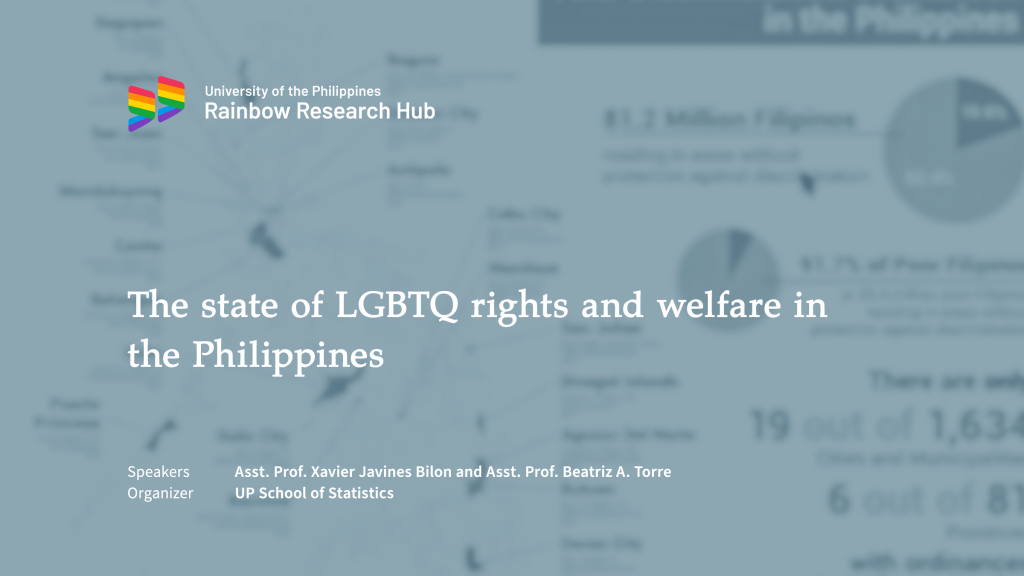 The moderators provide an overview of the current situation of LGBTQI rights, lives, and welfare in the Philippines. Xavier's report centered on the criminalization, protection, and recognition of queer people and their identities in the country and Bea's discussion zoomed in further on how LGBTQI Filipinos survive and thrive as individuals, form relationships with others, and think of themselves.
Speakers: Engr. Xavier Javines Bilon and Beatriz A. Torre
Organization: UP School of Statistics
Does your city/municipality have an anti-discrimination ordinance (ADO)? If yes, read it. If no ADO exists, look for the nearest city/municipality that has an ADO and read it. Then, answer the questions below:
What discriminatory acts does the ADO protect LGBTQI people in your city/municipality against?
Does the ADO have protections that are specific to transgender people (in terms of their gender identity), gender non-conforming people (gender expression), and intersex people (sex characteristics)?
Does the ADO provide enough protection for LGBTQI people against discrimination in your city/municipality? If yes, how so? If not, how can the ADO be improved?
Identify a specific LGBTQI subgroup (e.g., lesbian women). What are some minority stressors that LGBTQI people from your chosen subgroup experience in their everyday lives?
Are there any similarities or differences between the stressors that lesbian women, gay men, bisexual people, transgender and queer people, and intersex people deal with?
Does the lack of a national anti-discrimination law or legal protection against SOGIESC-based discrimination contribute to minority stress? If yes, how so? If no, why not?
What can schools, workplaces, and other institutions or services (e.g., healthcare) do to lessen the minority stress that LGBTQI people experience and to ensure that LGBTQI people not only survive, but also thrive?
On the criminalization of same-sex sexual behavior: The International Lesbian, Gay, Bisexual, Trans, and Intersex Association (ILGA World) depicts the state of sexual orientation laws worldwide in this comprehensive map (links to download: English, .pdf/.png; Filipino/Tagalog .pdf/.png; other languages also available). The map specifically includes data on the protection against SOGIESC-based discrimination, marriage equality, adoption rights, as well as the criminalization of same-sex sexual behavior, restrictions on freedom of speech and registration/operation of civil society organizations (link to download: .xlsx).
On gender recognition: This map by ILGA also illustrates the state of gender recognition worldwide (Links to download: English, .pdf/.png; Atlantic-centered maps also available). In countries where gender recognition is possible, the laws range from self-identification (least restrictive) to surgery and/or sterilization requirements (most restrictive). Equaldex also has a map specific to the recognition of non-binary genders (English). As of writing, only 16 countries and territories legally recognize non-binary and third genders.
On anti-discrimination ordinances in the Philippines: Engr. Xavier Bilon has compiled the more than 30 anti-discrimination ordinances that have been passed in various Philippine barangays, cities, municipalities, and provinces from 2009 to 2021. He has also made infographic-maps of these ordinances available (Google Drive download links: 1 and 2), as well as a short history of the anti-discrimination bill in Philippine Congress as of 2018.

On minority stress theory: This literature review on bisexual-specific minority stress found that when compared to heterosexual people, lesbian women, and gay men, bisexual people have a higher risk of developing negative health outcomes in terms of mental health, substance use, and sexual health. It also discusses this finding in the context of bisexual minority stress and explains that this is partly because of the stigma and discrimination that bisexual people experience.